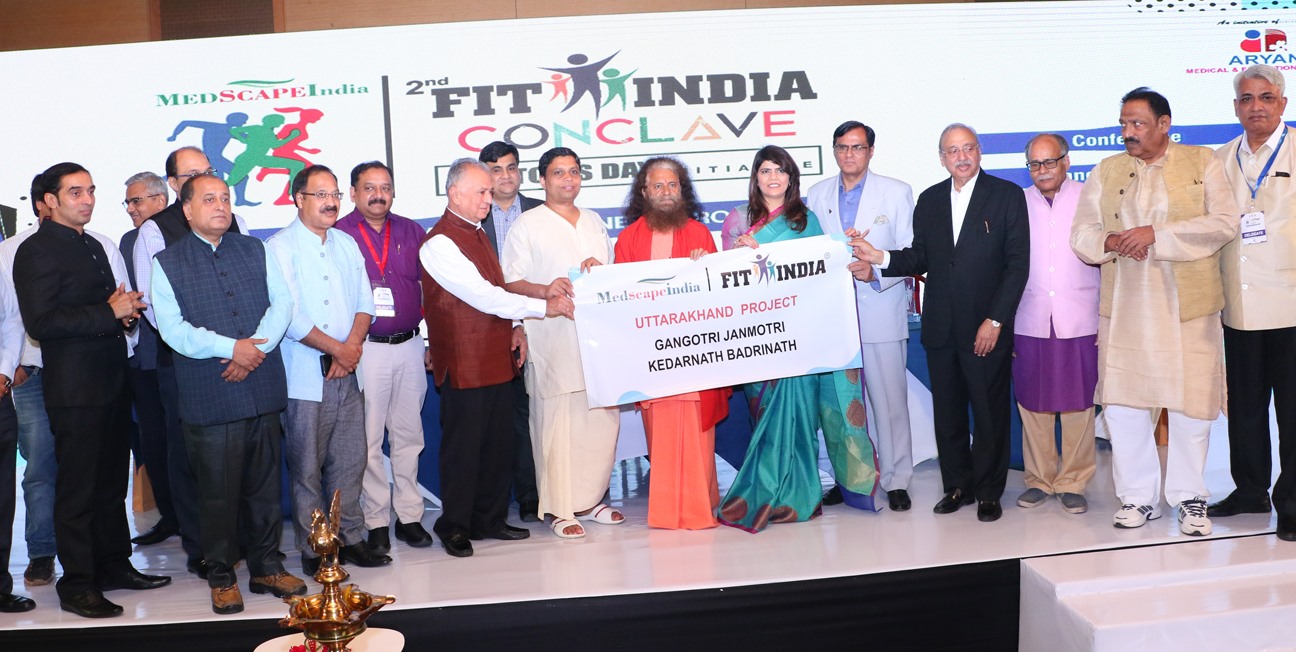 Fit India Conclave on the Eve of Doctors Day
At a beautiful programme at the Le Meridian Hotel in Delhi HH Pujya Swami Chidanand Saraswati ji, Pujya Acharya Balkrishna ji, Kent RO CEO Shri Mahesh Gupta ji, Founder of MedscapeIndia Dr. Sunita Dubey ji and other special guests inaugurated the programme with a beautiful lamp lighting ceremony. Padma Shri and Padma Vibhushan Saroja Vaidyanathan ji's Bharatnatyam opened the programme.
Giving His blessings Pujya Swami Chidanand Saraswatiji shared, "Fit India is key to a Healthy India and Happy India. However, India talks about not only fitness but looks at wellness of the mind, body and spirit. This is why our visionary Prime Minister of India gave a call for celebrating International Day of Yoga and even organisations like the World Health Organisation affirm that yoga and meditation are key to a holistic approach to health."
He added, "Without clean air, water and soil however health and wellness can not be sustained. We must remember that oxygen is what keeps us alive not medication. We must therefore remember the mantra of Nature, Culture and Future, protecting all three for a sustainable future. We must work to heal and restore our connection with ourselves, our families and our Earth- this is the pledge that all doctors must take to protect our planet in addition to their patients."
Pujya Acharya Balakrishna ji wisely shared, "Living a lifestyle with Yoga and Ayurveda is the best to really be a fit and healthy India. For thousands of years Rishis have shared the tools, techniques and ways to stay healthy- we must remember, reflect and re-live this wisdom that is inherent in the foundation of our culture and is our proud heritage. What we are seeing today is the result of the pollution we have created. It's not too late to return to our roots and adopt Ayurvedic and Yogic lifestyles to truly heal all that ails our families, communities and our planet."
The organisers expressed deep gratitude to the saints for their blessings. Rudraksha saplings were given to dignitaries and organisers of the programme for their initiative.