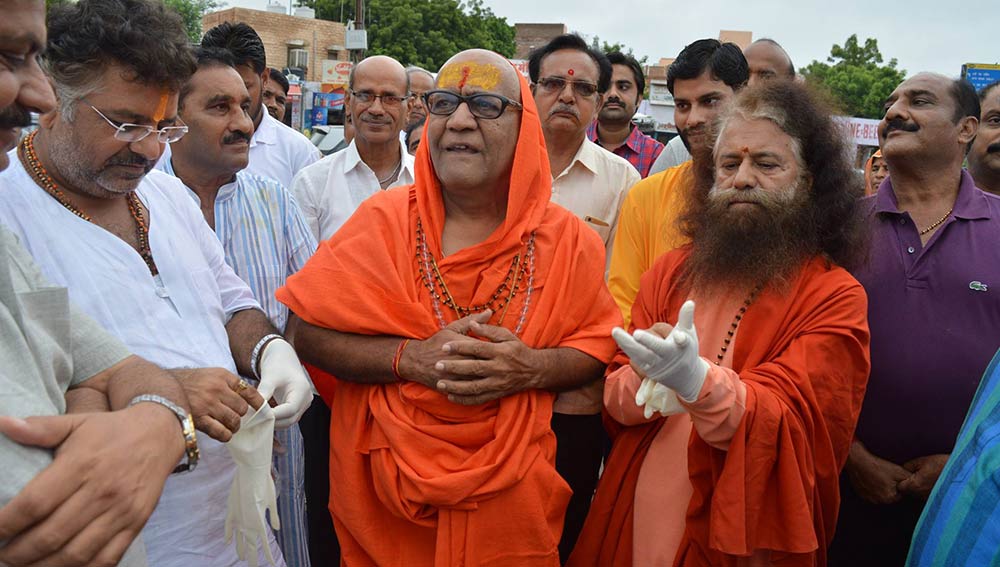 Green Shri Ram Katha in Jodhpur
Pujya Swami Chidanand Saraswatiji​ visit to Jodhpur for Pujya Murlidharji Maharaj​ji's Green Shri Ram Katha included having darshan at the Junakhedapati Hanuman Mandir where the katha was taking place. Pujya Swamiji spent time with the members of the temple trust and lauded their initiatives to protect and provide for stray cows, keep the mandir premises clean and green and inspire devotees with the message of seva, selfless service of the creation being the greatest worship of the Creator.
On the second day, there was a beautiful morning stroll and clean up at the local park. When the revered saints arrived to the park and started picking up trash all of the devotees and visitors also joined in to help. The saints shared their support for Hon'ble Prime Minister Shri Narendra Modi​ji's vision for a Swachh Bharat and shared that Clean India begins with our homes and our communities.
Thereafter, there was a beautiful tree plantation ceremony at the Shri Hanuman Mandir where the Shri Ram Katha was taking place. Local women from Jodhpur joined in by singing a beautiful song to honour and celebrate the occasion.
[fbalbum url="https://www.facebook.com/media/set/?set=a.10155735535587698.1073742311.86246862697&type=1&l=b0f3bc28dc"]