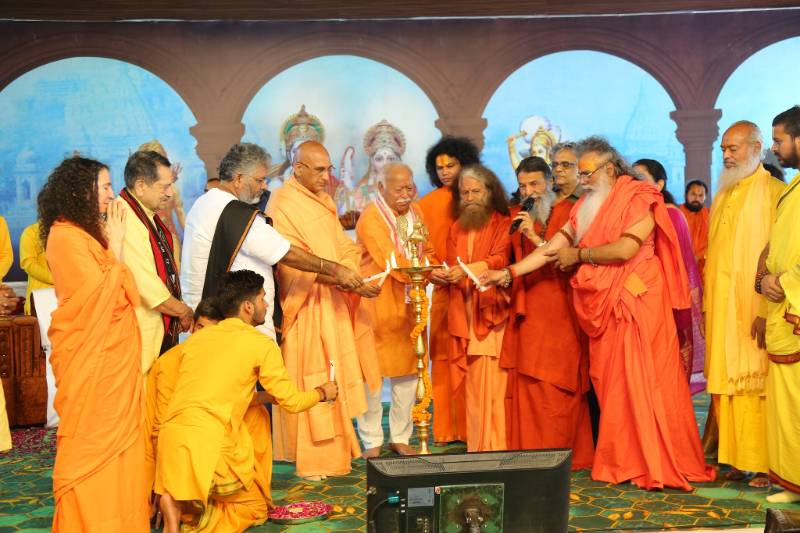 HH Param Pujya Swamiji's Birth Anniversary Celebrations
A full weekend of beautiful, sacred and serene events celebrating a Paryavaran Sewa Utsav welcomed HH Param Pujya Swami Chidanand Saraswatiji – Muniji into his 72nd year of incarnation, and provided a global platform for the discussion of the steps that are necessary to ensure that our sacred home, Mother Earth, and all of her inhabitants are sustained and protected for this and all future generations.
Introduced during the three days of festivities were life-giving, life-enhancing and planet-saving service projects that included lemon tree, wheelchair and mobile phone distributions offered by and in the company of the 14th Hon'ble President of India, Shri Ram Nath Kovind Ji; revered national sage, Shri Mohan Bhagwat Ji; renowned Kathakar, Pujya Sant Murlidharji Maharaj; Global Interfaith WASH Alliance Secretary-General, Pujya Sadhvi Bhagawati Saraswati Ji; National President of the National Kavi Sangam, Shri Jagdish Mittal Ji; respected poet Dr. Hariom Panwar Ji; founder of the Rashtra Mandir Vishv Ramayana Ashram Mission, Pujya Shri Ajay Bhai Ji ; RSS Director, the Hon'ble Shri Indresh Kumar ji; Acharya Mahamandaleshwar Swami Awadheshanand Giri Ji Maharaj; and other special guests.
Honorable Shri Mohan Bhagwatji said that "Pujya Swami ji does not need to celebrate his birthday. But it is necessary for us so that the work He is doing is brought into our lives."
During the Sacred Ganga Aarti, the Honorable Shri Ramnath Kovind Ji said that "Ganga Aarti is a tradition that has been going on for years, presented on the holy banks of Mother Ganga. It is a coincidence that today – Pujya Swamiji's birth anniversary – the Ganga Aarti has completed 25 years. If anyone deserves credit for the continuity of this sacred tradition, it is Swami Chidanandji. Today I have no words to praise his work. But know that lakhs of devotees from India and abroad come here. This is a direct testament of that."
Swami Chidanand Saraswatiji declared that "the time has come to make a call from this holy bank of Ganga and the holy plains of the Himalayas. Prime Minister of India, Shri Narendra Modi ji, is raising the prestige of India throughout the whole world. Only India can give the mantra of peace to the whole world because India is not a piece of land but a land of peace and the mantra of India is Vasudhaiva Kutumbakam. Let us take a pledge that we will always maintain the honor of this motherland, offering development and heritage together.
Dr. Sadhvi Bhagwati Saraswati ji said, "Revered saints do not have birthdays, but saints incarnate to serve the universe. And, that is Pujya Swamiji. There is only one basic mantra in His life, and that is 'Yes'. He is always ready to serve humanity, nature and the environment. Let us all take a pledge to imbibe the divine sources of service from his life to honour Him on his birthday. I believe that today is the birthday of all of us because by His grace we all have got life. I took knowledge of books in America, but Pujya Swamiji gave me the knowledge of life, the knowledge that we should not think 'What for me but what through me.' This is life."