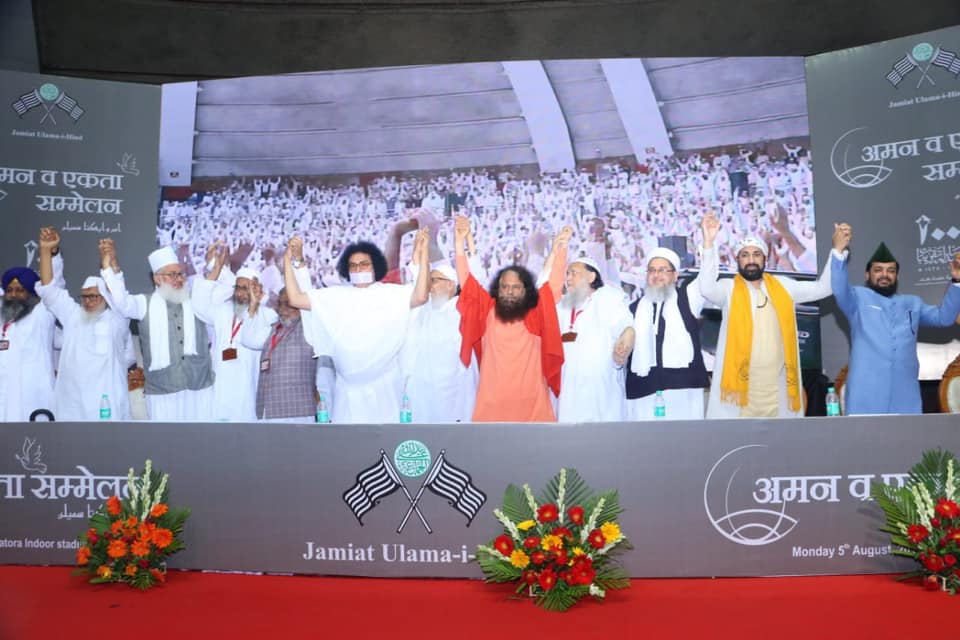 Interfaith Gathering in Delhi
Pujya Swami Chidanand Saraswatiji, President, Parmarth Niketan, joined Maulana Mahmood Madaniji, Secretary General, Jamiat Ulama I Hind, at the Talkatora Stadium admist Maulana Arshad Madani, President, Jamiat Ulema-e-Hind, Maulana Mohammad Usman Mansoorpuri, President, JUH with thousands of members of their institutions. Gracing the closing interfaith panel were also India's Revered Interfaith leaders such as: Ven Lama Lobzang, President, International Buddhist Confederation, Archbishop of Delhi, Dr Anil Cuoto, Acharya Lokesh Muniji, Jain Monk, Sufi Salman Chisthyji of the Ajmer Dargah Sharif, Giani Ranjit Singhji, Chief Granthi, Bangla Saheb Gurudwara Delhi and many other prominent leaders of the Islam Tradition.
As Maulana Mahmood Madaniji read a comprehensive declaration that included promoting peace and communal harmony, while working together for improved WASH and protecting the environment. He especially called for Pujya Swamiji's support to work together on the 5th point in joint partnership of the Global Interfaith WASH Alliance to establish smaller, localised chapters of interfaith harmony and understanding in city's, districts and villages across Bharat as a humble and sincere effort to keep the nation together.
Pujya Swamiji gave a highly anticipated speech and led a beautiful pledge of oneness, love and to serve together towards a more sustainable, clean and green Bharat. He inspired JUH members to be peaceful warriors of oneness and communal harmony, strongly condemning terrorism, hate and divisive forces.
He encouraged everyone to raise to their feet, join their hands and their hearts to be the change we want to see in the world. As lakhs of JUH members peacefully lined up the streets and the stadium was overflowing with enthusiasm and excitement to serve towards sustaining a united and inclusive Hindustan for all.
In closing, Pujya Swamiji gifted a sacred Rudraksha sapling and both leaders declared a large tree plantation drive they would be leading together from Rishikesh to Delhi planting thousands of trees of love and brotherhood in more then 1000+ madarasas at the end of this month.