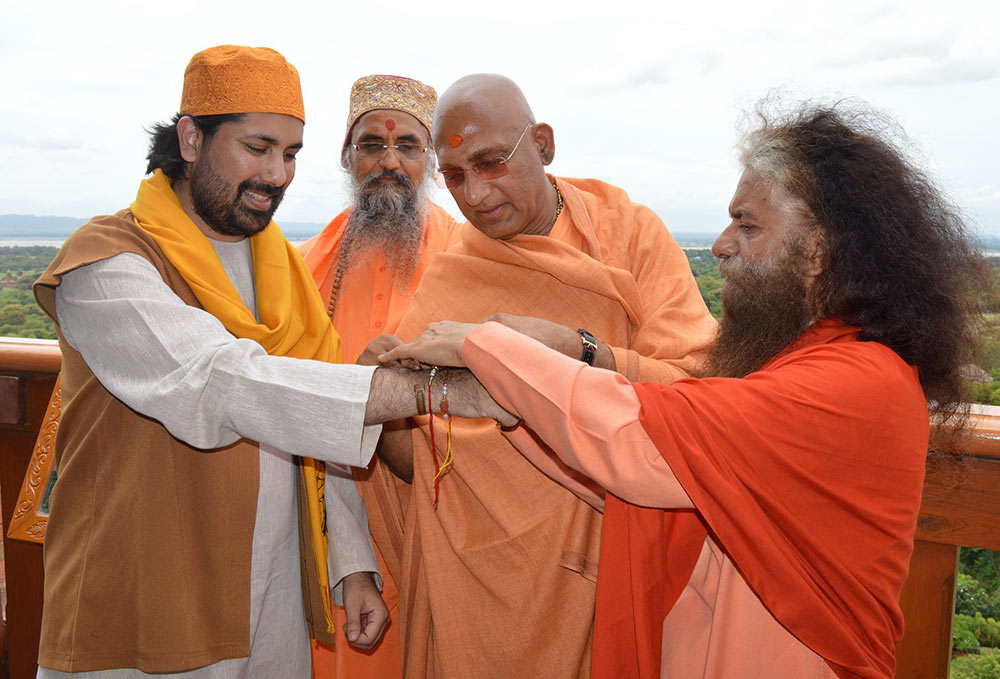 Interfaith Raksha Bandhan Celebrations in Bagan, Myanmar
Special Raksha Bandhan celebrations were led by Pujya Swami Chidanand Saraswatiji​ during a special visit to UNESCO​ Heritage Site Bagan*, Myanmar recently with revered interfaith leaders including, Junapeethadishwar Pujya Acharya MM Swami Avdheshanand Giriji, Pujya Swami Parmatmanand Saraswatiji, Pujya Swami Madhavpriyadasji, Swaminarayan Gurukul Parivar, Syed Salman Chisthyji, Head of the Chishty Foundation and Dargah Ajmer Sharif, many revered Hindu and Buddhist saints from Cambodia, Thailand, Sri Lanka, Japan, Myanmar, India and many other interfaith leaders from all over the world. The celebrations were symbolic of the leaders commitment to work together as one towards building a cleaner, greener and more peaceful world for all. They also pledged to protect sacred heritage sites such as Bagan and many others, which not only carry great historical and archeological significance but are close to the hearts of faith communities. After the rakhi tying ceremony they held hands and pledged for a better world for all through the power of togetherness.
During their visit to Bagan, the delegation of interfaith leaders, scholars and members of Vivekanand International Foundation visited several sacred pagodas, including the Htilominlo Guphaya, Shwezigon Pagoda, Anand Pagoda and the Bagan Archaeological Museum. The delegation revelled in the glorious beauty of the Bagan.
The celebration took place on the third and last day of the faith leaders visit for the two day Samvad II:Global Iinitiative on Conflict Avoidance and Environmental Consciousness that was taking place in Yangon, Myanmar, inaugurated by the Governor of Uttar Pradesh, Shri Ram Naikji (5th August) and concluded by the Chief Minister of UP, Mahant Yogi Adityananthji (6th August), being organised by the Vivekanand International Foundation, India, Sitagu International Buddhist Academy and University, Myanmar and the Japan Foundation, Japan.
*Bagan (Burmese: ပုဂံ; MLCTS: pu.gam, IPA: [bəɡàɴ]; formerly Pagan) is an ancient city located in the Mandalay Region of Myanmar. From the 9th to 13th centuries, the city was the capital of the Pagan Kingdom, the first kingdom that unified the regions that would later constitute modern Myanmar. During the kingdom's height between the 11th and 13th centuries, over 10,000 Buddhist temples, pagodas and monasteries were constructed in the Bagan plains alone, of which the remains of over 2,200 temples and pagodas still survive to the present day. https://en.wikipedia.org/wiki/Bagan
[fbalbum url="https://www.facebook.com/media/set/?set=a.10155714174972698.1073742307.86246862697&type=1&l=d3f6aa3ab0″]