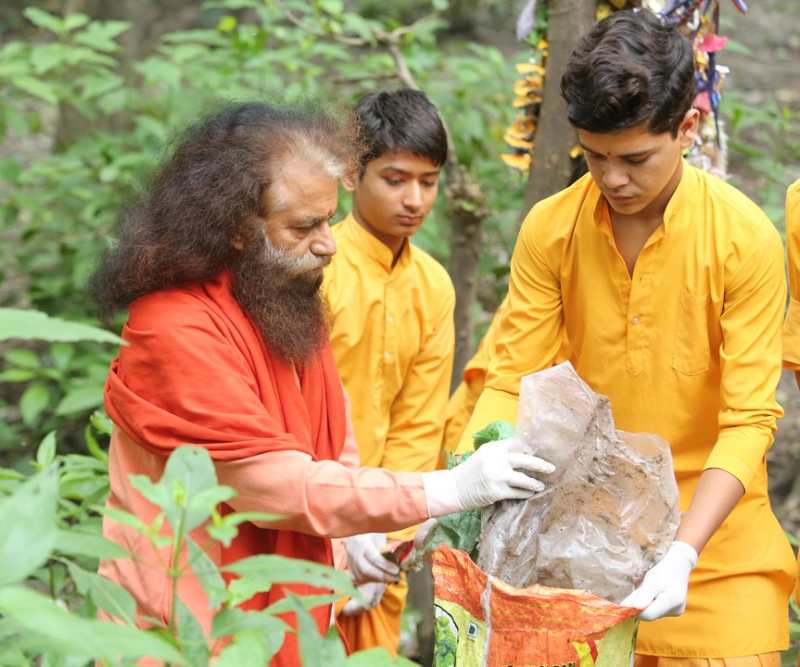 International Plastic Bag Free Day
The recent International Plastic Bag Free Day commemoration was the perfect opportunity for HH Pujya Swami Chidanand Saraswatiji, President of Parmarth Niketan, to remind us that "plastic pollution is a global crisis! The environment is being polluted and, unfortunately, this pollution is man-made. The solution, though, will also be man-made.
"Over 500 billion plastic bags are used globally," Pujya Swamiji continued. "So many plastic bags are spreading on our Earth and, due to this pollution, biodiversity is in catastrophic crisis. Plastic is fouling and defiling our waterways, and toxins are increasing in our oceans due to plastic. And, these toxins enter the food chain, bringing that toxicity to our tables. Our health is being affected."
There are growing concerns around the world about plastic pollution in the oceans, with nearly 50 percent of single-use plastic products ending up in our waterways, destroying marine life and entering the human food chain. "If plastic continues to be used in this way," Pujya Swamiji warned, the future will see millions of tons of plastic bags floating in oceans and rivers. Instead of sand on the shores, there will be nothing but mounds of plastic.
"In order to keep our planet green, everyone should gradually stop using plastic bags and other products. We must look for cloth bags and eco-friendly alternatives instead of plastic bags so that the environment can be protected. Biodegradable and compostable plastic will have to be used and strict steps will also have to be taken for strict implementation.
"And, we must remind ourselves and others that all the plastic we use every day must be disposed of properly. We must realize that increasing plastic waste is becoming a crisis for the coming generations and for the life of all the living beings of the world. So today, let us take a pledge that we will use only cloth bags and do our part in the creation of a plastic free earth."
Pujya Swamiji is the Founder of the Ganga Action Parivar, whose chief mission is the conservation, preservation and protection of the all of the world's waterways, for as He so beautifully shares, "whenever we invoke Ganga's name, whenever we pray to Her and love Her, she flows before us."