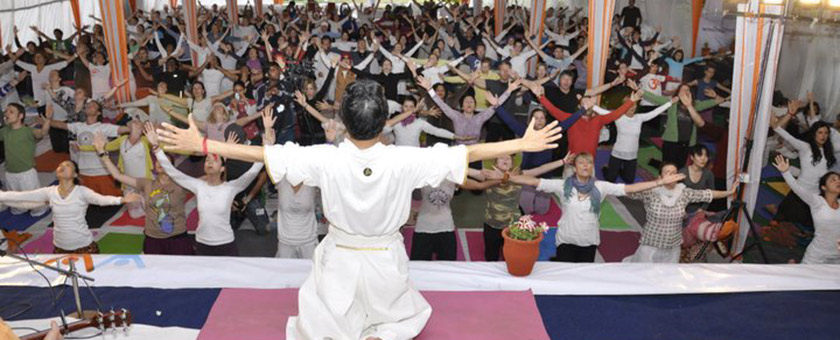 International Yoga Festival 2011
The annual International Yoga Festival at Parmarth Niketan Ashram in Rishikesh celebrated its valedictory session on March 6, 2011, by the hands of the Hon'ble Chief Minister of Uttarakhand, Shri Ramesh Pokhariyal (Nishank).  The Festival runs from March 1-7 every year and is jointly organized by Uttarakhand Tourism Department and Parmarth Niketan Ashram.
This year there were approximately 400 participants from 36 countries across the world, including Australia, Canada, China, France, Germany, Japan, Pakistan, Singapore, Spain, Switzerland, Thailand, the United Kingdom and the United States.  The event features world-renowned teachers such as Shiva Rea, Gurmukh Kaur Khalsa, Dr. David Frawley, Sadhvi Abha Saraswati, Kishan Shah, Deepika Mehta and many more. In fact, this year there are more than 30 teachers from 15 countries.
During the week, the participants have experienced the following types of yoga:
Kundalini Yoga
Iyengar Yoga
Ashtanga Yoga
Vinyasa Yoga
Nada Yoga
Sukshma Yoga
Power Yoga
Yoga Therapy
Meditation
Bhakti Yoga/Kirtan
Yoga Nidra
Jivamukti Yoga
Deep Yoga
Odaka Yoga
Shinto Yoga
Further, they had a special Mahashivratri abhishek puja and a huge clean up of the banks and waters of Mother Ganga to experience "yoga off the mat" and "yoga in action" and had a huge clean up of the banks and waters of Mother Ganga.
In addition, the participants had satsang and discourses from:  H.H. Pujya Swami Chidanand Saraswati, H.H. Swami Dayananda Saraswati, H.H. Pujya Sri Shankaracharya, Bhanpura Peeth, (Swami Divyanand Teerth), Dr. David Frawley (Pandit Vamadev Shastri) and Sadhvi Bhagawati Saraswati.
The evenings were spent enjoying cultural song and dance performances given by troupes from Uttarakhand Tourism and also the rishikumars of the Parmarth Gurukul.
[fbalbum url="https://www.facebook.com/media/set/?set=a.10150119656247698.292575.86246862697&type=1″]
[fbalbum url="https://www.facebook.com/media/set/?set=a.10150121470432698.293387.86246862697&type=1″]