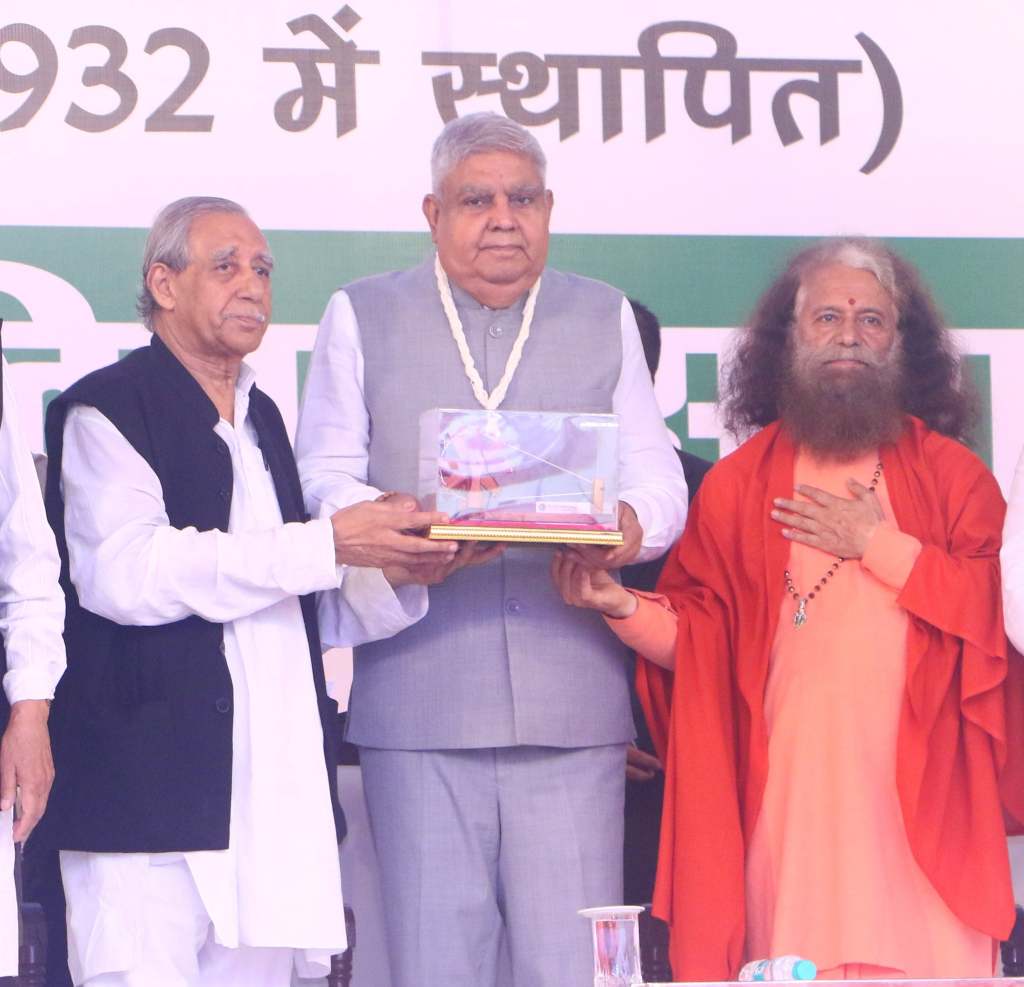 Pujya Swamiji attends Sadbhaavna Sammelan Celebrating 90 years of Harijan Sevak Sangh
The Hon'ble Vice President of India, Shri Jagdeep Dhankhar ji joined HH Param Pujya Swami Chidanand Saraswatiji, President of Parmarth Niketan and the Co-Founder of Global Interfaith WASH Alliance; Padma Bhushan Bindeshwar Pathak, Founder of Sulabh International Social Service Organisation; Harijan Sevak Sangh President, Shri Sankar Kumar Sanyalji, and Vice-Presidents Shri Naresh Yadavji and Shri Laxmi Das; Chancellor, Shobhit University, Shri Kunwar Shekhar Vijendra; and, others to celebrate 90 years of the Harijan Sevak Sangh in the lead-up to Gandhi Jayanti.
Harijan Sevak Sangh, founded by Mahatma Gandhi in 1932, has been working for upliftment of the downtrodden and weaker section of the society throughout the country through its various State Branches, Associates and Affiliates since its inception.
The soil of Gandhi Ashram, Harijan Sevak Sangh, Kingsway Camp is extremely sacred as Gandhiji and Kasturba used to stay there during their sojourn in Delhi during the 1930s and 40s. It has had the footsteps of various stalwarts of our country like Netaji Subhas Chandra Bose, Khan Abdul Gaffar Khan, Sardar Ballav Bhai Patel, Pandit Jawaharlal Nehru, Maulana Abul Kalam Azad and others. The Sangh is also enriched by the glorious presence of Previous Presidents of India, Dr. Rajendra Prasad, Shri R. Venkatraman, Dr. Sankar Dayal Sharma, Shri K.R. Narayanan, Bharat Ratna Pranab Mukherjee, Shri Ram Nath Kovind and Vice Presidents, Shri M. Venkaiah Naidu and others on different occasions.
This occasion celebrated Sadbhavana Diwas, the day in which Mahatma Gandhiji and Dr. B.R. Ambedkar materialized the historic Poona Pact in Yervada Jail in Pune, which led to the Foundation of Harijan Sevak Sangh in 1932.
The inaugural session began with a Gandhian prayer by the young school children studying at the Ashram, the National Anthem, thereafter a sacred lamp lighting ceremony followed by welcoming of all guests with momentos. Pujya Swamiji offered a beautiful elachi mala and sacred Rudraksha sapling to the Vice President and joined HSS members in honouring him with charka, shawl and khadi mala.
HSS President Dr Sankar Sanyalji opened by sharing, "Harijan means Son of God and Mahatma Gandhiji wrote the Constitution of Harijan Sevak Sangh for the upliftement of the marginalised and vulnerable communities. I follow in a long, unbroken line of leadership from HSS first President GD Birlaji to Didi Nirmala Deshpandeji and today I stand before you."
He added, "Harijan Sevak Sangh is leading and largest Gandhian organisation spread across the nation, working in every State through work in Rural Development, Education, Economic and Skill Development. We stand here in this very sacred soil that Puja Baa and Bapu stayed in. I am also proud to share that this campus has the first and only Museum and monument with live relics of Pujya Baa Kasturba Gandhiji. This organisation is an iconic and historic institution and we request from the Government of India support to sustain this great work and service so that we can continue to serve the most marganilised and disadvantaged members of society."
Hon'ble Vice President Shri Jagdeep Dhankharji shared, "Mahatma Gandhiji is not just a name He is a thought, a philosophy and a way of life. He has inspired generations and will continue to inspire countless many more. Following Gandhi's principle we will be able to serve humanity, live a healthy and happy life. Living by Gandhian thought all challenges of today whether conflict, climate change all these challenges can be resolved with putting Gandhian thought and philishopy into practice."
He added, "When we say Sabka Saath, Sabka Vishwas and Sabka Prayas it is truly only Gandhian thought in practice, it is not political at all but it is national. Gandhiji was always open to the others point of view and this is an important part of living Gandhian philosophy. If we have the attitude that our way is the only way that is never healthy for growth and progress. That is why we are committed to developing a healthy ecosystem, exploring every talent and exploits every potential."
He concluded by, "This campus should be a positive epicentre of education and learning. A place to cleanse the conscious, inculcate harmony and sublimity.
Every day here should be eventful in the ultimate goal to make Gandhian thought all pervasive and all around. I leave from this place fully inspired, energised and ready to be a foot soldier for this institution."
Pujya Swami Chidanand Saraswatiji blessed everyone by sharing, "The Hon'ble Vice President of India is a living example of living Gandhian values and strives to bring it in his leadership. It is a great seva of HSS to welcome the Hon'ble Vice President here today. He is the sangam of vichar, vyavahar and sanskar illustrating how the hardships of leading a farmers life can become an inspiration."
He added, "Gandhian culture is not to to dominate anyone. India is not going to be superpower because it dominates others but it continues to motivates others and is on the way to leading as Vishwa Guru. It is Gandhian principles in practice when India took the task of vaccinating everyone but the true vaccine for our nation and against all challenges is living Gandhian thoughts and values. It is important now that as Gandhians we live his teachings, apply his principles, it is not merely enough to wear khadi but we must also do the karma (the action)."
The event concluded with National Anthem and vote of thanks for all that had joined for a historic inaugural ceremony as well as great hopes for the following days and sessions of discussions in which there will be more thought on the way forward for the Harijan Sevak Sangh in the next decade.