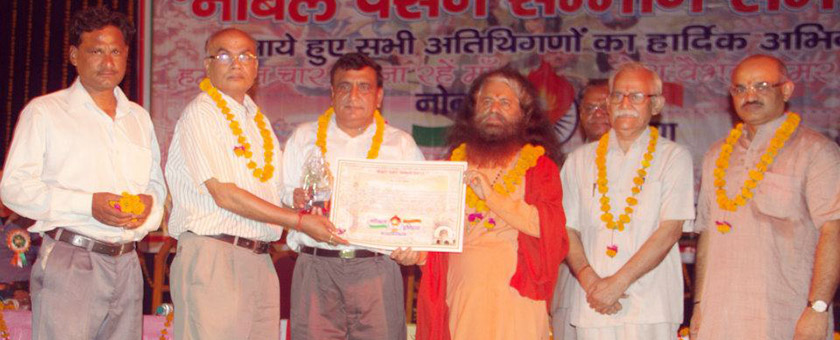 Pujya Swamiji is Honored with Noble Person's Award in Lucknow
Pujya Swamiji was given the Noble Person's prestigious award in Lucknow by Noble Parivar, a national family that brings together divine souls that are excelling in their respective fields and are giving back to society. Pujya Swamiji was honored by Dr. Arun Bhatt, Director PGI Noida, Shri Bhimjibhai Patel, Chairman of Standing Committee Surat Municipal Corporation (Gujarat) and Shri Chanyaka, Chief Editor Nobel India in excellence in the service of the environment and humanity.
Pujya Swamiji was requested to honor and award a few other distinguished individuals in the fields of education, healthcare, literature, journalism and leadership. Pujya Swamiji commended the initiative and the committee and said that these noble souls are doing the true pooja (worship) every moment by serving not only God but also God's creation. Pujya Swamiji also said that it was their service and spirit of giving that makes India Bharat and the reason why, despite the many challenges that the nation faces, there is hope and strength in its people, its culture and its heritage.
[fbalbum url="https://www.facebook.com/media/set/?set=a.571615086193670.1073741844.195396983815484″]