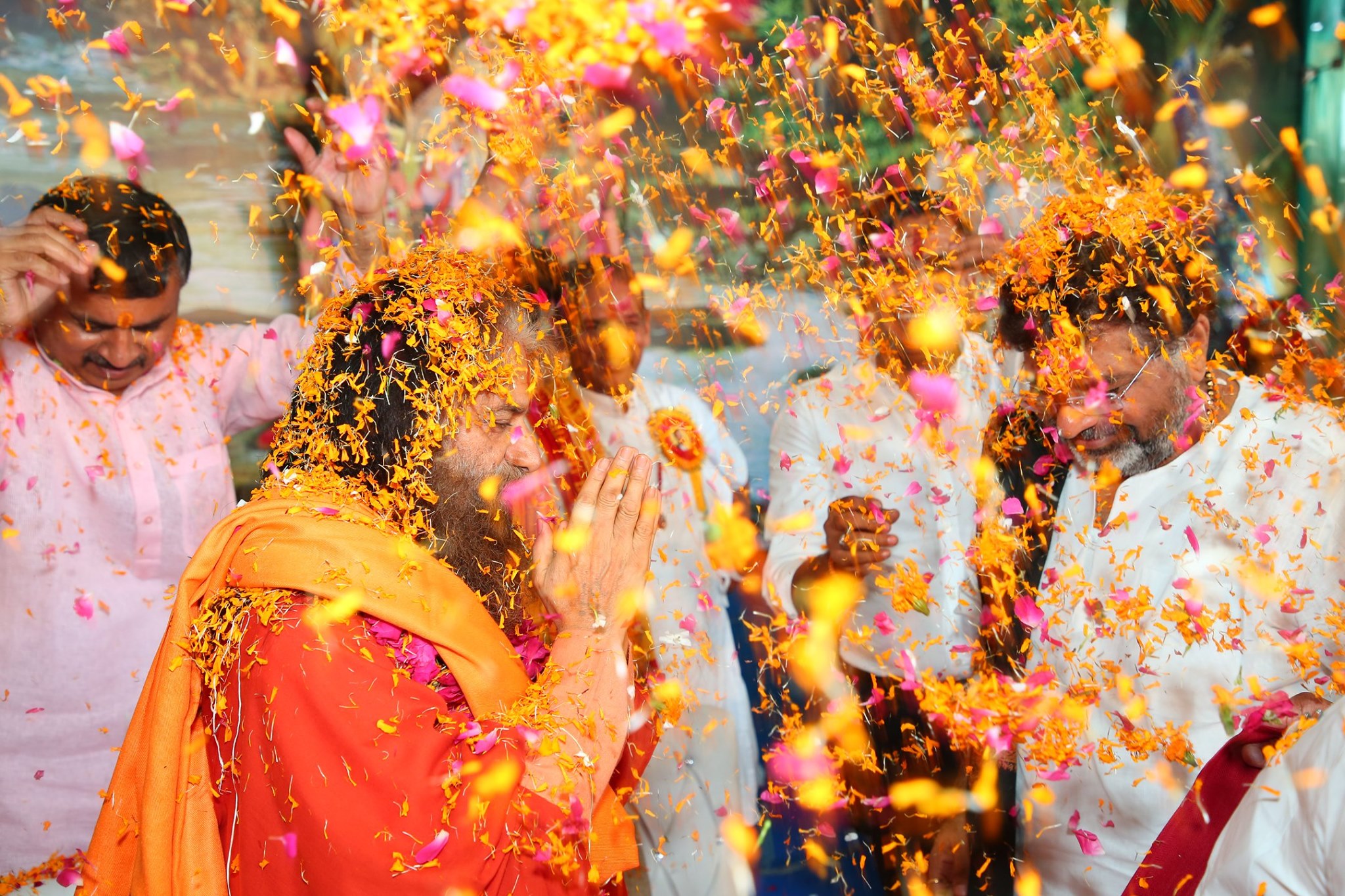 Pujya Swamiji's Avtaran Diwas: 67th Birthday Celebrations
Pujya Swami Chidanand Saraswatiji's 67th Birthday Celebrations began with a beautiful havan ceremony in the morning, followed by the Shri Ram Katha by Pujya Sant Murlidharji which was graced and blessed by Pujya MM Swami Gurusharanandji, Karshnipeethadeshwar, Pujya MM Swami Asanganand Saraswatiji of Parmarth Niketan, Maulana Syed Kokab Mujtaba Abidiji, Sadhvi Bhagawati Saraswatiji, delegation of Buddhist Lamas and Monks, led by Ven Khenpo Rangdolji, from Ladakh and Dehradun from the Drikung Kagyu Institute and Doon Buddhist Association. Senior BJP Leader Shri Shyam Jaju, Artist Rouble Nagi also made a surprise visit during the Katha.
Divine #Birthday Celebrations from yesterday as we celebrate @PujyaSwamiji's 67th birthday w/ in #RamKatha by @MurlidharJiM . See full video w/ Pujya Swami Gurusharananandji, Respected @ShyamSJaju & #interfaith leaders. Watch the LIVE video again: https://t.co/6RNOIOSFRs pic.twitter.com/ByhyikeLKN

— Parmarth Niketan (@ParmarthNiketan) June 4, 2019
Beautiful Vedic mantras were recited as all Saints and Faith Leaders showered their words, blessings, love and actual flower petals upon Pujya Swamiji praying for His long and healthy life in the service of the planet and all of humanity. The joyous event was beautifully em'ced by Dr Rachna Bimalji. It was shared that this year Pujya Swamiji's birthday fell on the divine occasion of Somwati Amawasya, considered an especially holy and sacred time of the New Moon falling on Monday- the day of the week generally dedicated to Lord Shiva.
On this sacred day of @PujyaSwamiji 's birthday, the day He took birth to be the raft carrying us across the ocean of life, to be the light shining in our darkness, to be the sun bringing morning to the night, here is something I wrote for Him. #Gurudev #SwamiChidanandSaraswatiji pic.twitter.com/aAhsBkbF5j

— Sadhvi Bhagawati (@SadhviBhagawati) June 3, 2019
Watch the LIVE stream here:
Throughout the day, devotees, pilgrims and well-wishers came in from near and far to wish Pujya Swamiji Maharaj on this day which for them held great significance as it is the day they were blessed with His presence on this planet, to guide and carry us in our lives towards greater service and divine union. Parmarth Rishikumars offered drawings and Sanskrit poems as their deepest reverence and respect for their Guru.
Updates @PujyaSwamiji's recent Birthday Celebrations graced by Pujya Swami Gurusharananandji, @MurlidharJiM, @ShyamSJaju, @SadhviBhagawati, @ROUBLENAGI & others are now online. It includes Shri #RamKatha, messages of #interfaithharmony, #GangaAarti & more: https://t.co/WTUGLl2XWc pic.twitter.com/27iX9flQge

— Parmarth Niketan (@ParmarthNiketan) June 7, 2019
There was a special Ganga Aarti ceremony which was graced by Hon'ble Urban Development Minister Shri Madan Kaushikji as he wished Pujya Swamiji Maharaj prefusely on his divine leadership and inspiration to the progress, prosperity and direction of the Himalayan State. He was joined by the Mayor of Rishikesh and other dignitaries in offering him a huge flower garland. Buddhist monks led by Ven Khenpo Rangdolji offered special Long Life prayer for Pujya Swamiji.
Watch the LIVE Ganga Aarti stream again:
https://www.facebook.com/ParmarthNiketan/videos/2551696718194780/
https://www.facebook.com/ParmarthNiketan/videos/623158681496973/
Beautiful and divine evening ended with Ganga Aarti, as devotees and pilgrims continued to come in to offer their wishes, gratitude and love.