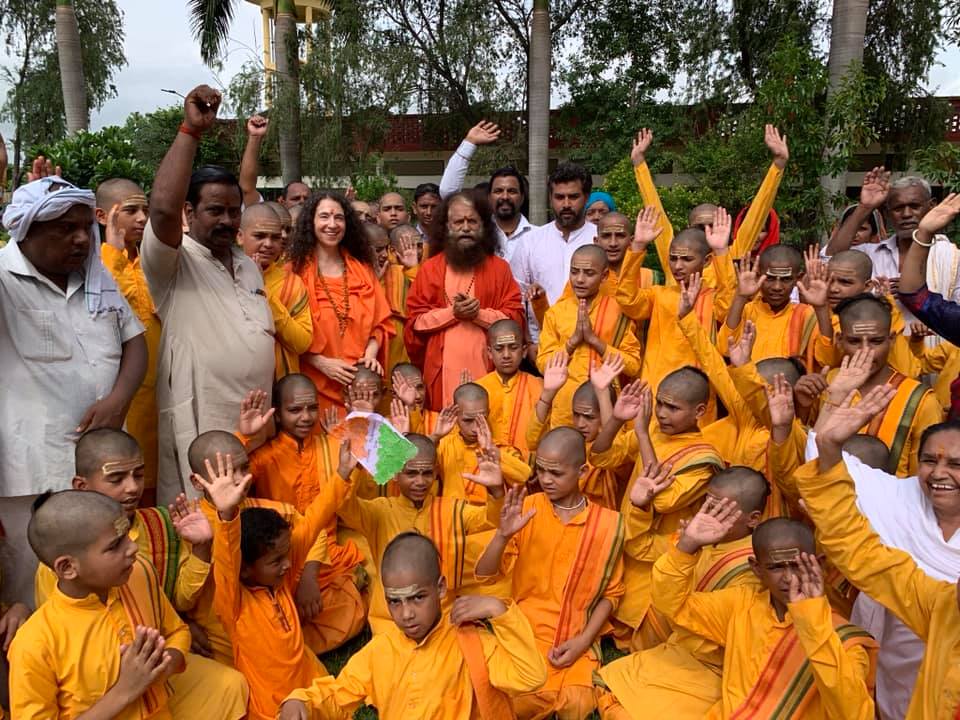 Raksha Bandhan & Indian Independence Day 2019
Yesterday we held a special celebration for Raksha Bandhan and Indian Independence Day Celebrations led by Pujya Swami Chidanand Saraswatiji and Sadhvi Bhagawati Saraswatiji.
The day started with flag raising ceremonies in Parmarth Gurukul, Veerpur and Parmarth Niketan, Rishikesh campus followed by beautiful patriotic songs by our Rishikumars and Sadhvi Abha Saraswati. The Rishikumars then gathered on the ghat for their Janeu Sanskar ceremony on the banks of Maa Ganga, where they performed the sacred rites of receiving their new sacred threads and joined together for a group dip in the Holy River.
This was followed by bhajans and a rakhi tying ceremony for Raksha Bandhan in Parmarth Niketan, where all female Sevaks and members of the Parmarth family tied Rakhis to the Rishikumars and other spiritual brothers. During this sacred event, Pujya Swamiji and Sadhviji shared words of wisdom for all present to take the message of this festival deep into their lives.
Pujya Swamiji gave the message that Raksha Bandhan should also be Vrksha Bandhan. He said, "In addition to sisters tying rakhis on their brothers, we should also all be tying rakhis to trees, pledging to protect them and all of Mother Nature."
.@PujyaSwamiji speaks to every Indian, inspiring us to come together to answer Honble Prime Minister Shri @narendramodi ji's call on #IndependenceDay2019 & #RakshaBandhan to make #singleuseplastic free India. He adds let us move from #ODF to #OpenGarbageFree India. pic.twitter.com/CUNpXMAEgq

— Parmarth Niketan (@ParmarthNiketan) August 15, 2019
Pujya Swamiji spoke passionately about eradicating single-use plastics and creating an Open-Garbage-Free (OGF) India — a truly Clean, Green and Serene India. All those present at the event took a divine pledge together to actively work towards greater sustainability and betterment of the environment.
Sadhvi Bhagawatiji echoed Pujya Swamiji's message, sharing that Raksha Bandhan is a time to celebrate family, but beyond blood relations, a day to recognise that the world is our family (Vasudhaiva Kutumbakam) and we are all brothers and sisters irrespective of religion, race, colour, caste and so on. She added, "The act of tying a rakhi is also a commitment to God, through the symbolism of service and love that it represents."
This morning, on #IndependenceDay, had the opportunity after #FlagHoisting w/@pujyaswamiji to share w/rishikumars at our smaller, rural ashram b4 returning to @parmarthniketan abt #IndependenceDayIndia & importance of serving #India ! #BharatMataKiJai #VandeMataram #ilovemyindia pic.twitter.com/SoAyoxt4V1

— Sadhvi Bhagawati (@SadhviBhagawati) August 15, 2019
Sadhviji concluded by asking the Rishikumars to reflect about how they will contribute to the world as they grow, as we have independence we are free to make choices and we should be mindful in this process, to make them worthwhile. She told the Rishikumars to really think about this question, and plans to meet each of them at a later time to discuss their goals for the betterment of our planet and society.
Watch the LIVE celebrations:
Later in the day, we all gathered on the banks of Ganga for divine Aarti, which included a beautiful message from Pujya Swamiji and Sadhvi Bhagawatiji about making the occasion a "green celebration." The evening concluded with a patriotic song by Sadhvi Abha Saraswati and Rishikumars.