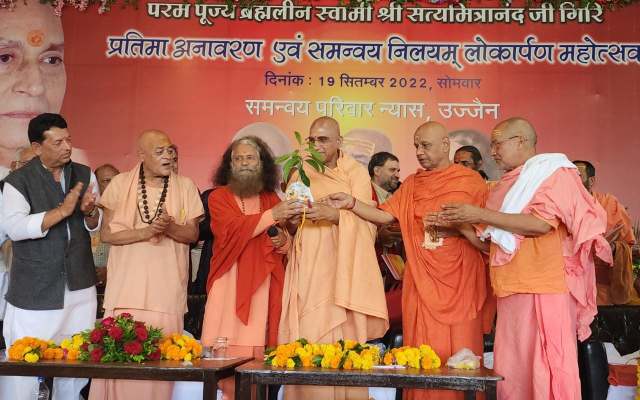 Unveiling of Statue and Inauguration of Service House "Samanvay Nilayam" in Ujjain
The Hon'ble CM of Madhya Pradesh, Shri Shivraj Singh Chouhanji, HH Param Pujya Swami Chidanand Saraswatiji, Acharya Mahamandaleshwar Pujya Shri Swami Avdheshanand GiriJi Maharaj, Swami Shri Govinda Dev Giri ji Maharaj, Swami Punyanand Giri Ji, Swami Akhileshwaranand Giri and other revered saints gathered today in Ujjain for the unveiling of a stature and the inauguration of the service house, "Samanvay Nilayam," as part of the celebrations surrounding the Avartan Mahotsav of Padma Bhushan, Pujya Shri Swami Satyamitranand Giri Maharajji.
Speaking of the beloved saint, Pujya Swamiji said: "He was an erudite legend, a scholar, a sattvik, a vigilant watchdog of Indian and spiritual culture. His life, heart, speech and deeds were filled with patriotism and Sanatan culture. He was such a great lamp that will always illuminate the generations to come. His Bharat Mata Mandir is a living symbol of his imagination in which he envisioned the heritage of Indian culture through her sages, freedom fighters, brave heroes, scientists and Mother Earth herself. He gave the message to future generations that staying connected with our ancestors and roots is the only way to stay connected with Indian culture.
"The whole life of Pujya Swami ji was fragrant like sandalwood, and the fragrance of his life gave guidance to millions of people in India and around the world, providing a positive direction in the lives of millions of people through his teachings. He kept on spreading the message of Sanatan and Indian culture while traveling all over the world with a height like the Himalayas, a depth like the ocean and a purity like Mother Ganga.