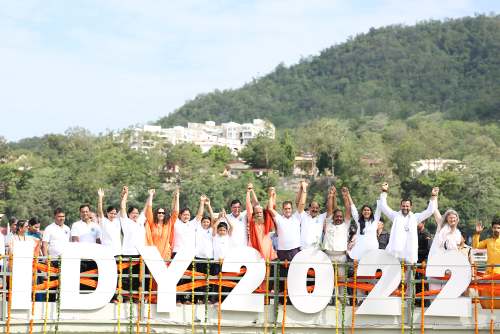 Yoga Day Celebration at Parmarth Niketan
Hon'ble CM of Uttarakhand leads State's Yoga Day Celebration from Parmarth Niketan, Rishikesh with Yoga Gurus HH Pujya Swami Chidanand Saraswatiji and Pujya Sadhvi Bhagawatiji 
Joined by Hon'ble Cabinet Ministers of Uttarakhand Shri Subodh Uniyalji and Shri Premchand Aggarwalji, with MLAs Smt Renu Bishtji, Rajkumar Poriji, Mayor of Rishikesh Smt Anita Mamgainji and many other eminent dignitaries 
Yoga lovers, seekers, devotees and pilgrims from across India and around the world join in the Yoga Capital of the World – Rishikesh – at the Parmarth Niketan Ashram as a part of 75th Azadi ka Amrit Mahotsav of Yoga Day, at an event jointly organized by the Department of AYUSH, Government of Uttarakhand in collaboration with Parmarth Niketan 
June 21st, 2022 – RISHIKESH: The International Day of Yoga celebrations took place at Parmarth Niketan, Rishikesh as the official State of Uttarakhand celebrations as the Hon'ble Chief Minister of Uttarakhand Shri Pushkar Singh Dhamiji graced the occasion, alongside Yoga Guru and Parmarth's President HH Pujya Swami Chidanand Saraswatiji, Pujya Sadhvi Bhagawatiji, Director of International Yoga Festival at Parmarth Niketan and Yoga Guru as well as Hon'ble Diginatries listed below:
Hon'ble Cabinet Minister, Govt of Uttarakhand,Shri Subodh Uniyal ji
Hon'ble Cabinet Minister, Govt of Uttarakhand, Shri Prem Chand Agarwal ji
Hon'ble CM's wife, Smt Gita Dhamiji
Hon'ble MLA, Yamkeshwar, Uttarakhand,Smt Renu Bisht ji
Hon'ble MLA, Pauri Garhwal, Uttarakhand, Shri Rajkumar Pori ji
Smt. Basanti Bisht, Padmashri Awardee, Folk Singer
Mr. Pritam Bharatwan, Padmashri Awardee, Folk Singer
Director, Ayurveda- Prof. Arun Kumar Tripathi
Hon VC- Prf. S. K. Joshi
DG Police- Shri Ashok Kumar
Secretary AYUSH- Dr. Pankaj Kumar Pandey (IAS)
Hon'ble Mayor Rishikesh, Anita Mamgain ji
There were more than:
2000 people from across India and  countries across the world – ranging from 5 years to 84 years of age
Yoga lovers from more than two dozen countries including America, Australia, Canada, Norway, Venezuela, Lithuania, Russia, Brazil, Israel, Nepal, United Kingdom and many others
Yoga enthusiasts from more than a dozen states of India including Assam, Delhi, Gujarat, Rajasthan, Maharashtra, Madhya Pradesh, Uttar Pradesh, West Bengal and many others
More than a dozen different government organisations and a dozen different Yoga Studios from across Rishikesh
Following Yoga Teachers and Institutions participated:
Uttarakhand Ayurveda Vishwavidyalaya – Rishikul Parisar, Gurukul Parisar, Vishwavidyala Mukhya Parisar
Bharat Swabhiman Trust
Art of Living
Bharat Yog Sansthan
Vibhag SPS Rishikesh Homeopathic Vibhag
Police Vibhag Ayurved Vibhag
Mr. Anand Mehrotra, Yoga Master, Head of Saatva Yoga
Yogacharya Ganga Nandini and Indu Sharma representing Parmarth
Sanskriti Yog Peeth
Arogya Yoga School
Ekam Yogshala
Atma Yogshala
Vinyasa Yogshala
Vivekananda Yoga School
Dhrishti Yoga School
Himalayan Yogpeeth
Adi Yoga School
Asthana Yoga Peeth
Rajshree Yoga Colege
Shivalik Yog Peeth
Maharishi Yoga Peeth
The celebrations officially concluded a week long Yoga Day celebrations which began on the 15th June and included the following key highlights:
15-20th June with LIVE Common Yoga Protocol
17-18th June Special Marma Chiktsa Camp that was inaugurated and concluded by Padmashri Kailash Kherji at Parmarth Niketan
19th June Swachta Yoga and Massive Clean up of Swargashram Rishikesh banks of Maa Ganga
20th June Run for Yoga in Dehradun and across Districts
During the celebrations in Rishikesh, Hon'ble Prime Minister Shri Narendra Modiji was lauded and celebrated for his incredible vision, leadership and divine example for bringing for the International Day of Yoga at the United Nations, an initiative that resulted in an historic consensus which, today, has led to citizens of over 170 countries across the globe celebrating Yoga Day in their embassies, their capitals, their parks, their schools and public facilities.  It was shared that Yoga Day is an initiative that crosses borders and boundaries, uniting people to work together to bring greater harmony and health to the world.
The special Yoga day Celebration in the morning started with Hon'ble Dignitaries coming together to begin with a sacred lighting of the lamp ceremony with a few opening words and remarks by the Hon'ble AYUSH Secretary of Uttarakhand, Shri Pankaj Kumar Pandeyji. Followed by a 45min Common Yoga Protocol session at the feet of the iconic Shankar Bhagawan at the Parmarth Ganga Ghat. Concluding with speeches and messages by Hon'ble Guest of Honour and Chief Guest to inspire participants to imbibe the art and science of Yoga into their lives. The event concluded with the National Anthem on the banks of Mother Ganga, thereafter the Hon'ble Chief Minister and his family took a sacred bath in the holy National River Ganga with Pujya Swamiji, Pujya Sadhviji and Parmarth Rishikumars admist chanting of Vedic Mantras, departing from his two day stay at the ashram on a high note after breakfast as the Gurukul Rishikumars played the drums and escorted the Hon'ble Chief Minister off alongside Pujya Swamiji.
The session was also  live-streamed across Parmarth and the Ministry's platforms:
QUOTES:
Honorable Chief Minister Shri Pushkar Singh Dhami ji shared, "I have been at Parmarth since last evening and I am so heartened to see that Yoga Day is being held with such enthusiasm and joy – one can feel that it is like a festive celebration. This is the magic and the vision that our Honorable Prime Minister has ignited in people across the world. Yoga which has always been a part of India's ancient heritage and culture is now being celebrated with even greater fervor and zeal with Hon'ble Modiji's call for a Yoga Day, uniting the world in Yoga! I appeal to all to practice Yoga daily to reap its various benefits"
He added,  "This theme of Yoga for Humanity is being celebrated at Parmarth Niketan, Rishikesh because it is institutions and organisations like these and countless others that have protected and propagated Yoga to countless many across India and around the world. Saints like Pujya Swami Chidanand Saraswatiji have made significant contributions to this end."
He shared, "In the year 2025, when Uttarakhand will be celebrating its silver jubilee year, till then all of us will be  together working towards creating and establishing a more healthier, greener and cleaner state- one that proudly is the Yoga and AYUSH capital of the world."
Yoga Guru Pujya Swami Chidanand Saraswati ji, President of Pamath Niketan said, "It is a matter of great pride and honour that Parmarth Niketan, RIshikesh is hosting the 8th Annual Yoga Day Celebrations for the State of Uttarakhand. It is the vision of the Hon'ble Prime Minister of India Shri Narendra Modiji and the Hon'ble Chief Minister of Uttarakhand Shri Pushkar Singh Dhamiji that the banks of Mother Ganga which for generations have nurtured and nourished the wisdom of Yoga are the sacred location for these celebrations."
He added, "It is apt that this year's theme Yoga for Humanity is being celebrated from Parmarth because the word Parmarth literally stands for in the service of humanity, in the service of all. It is this journey from Swarth (selfishness) to Parmarth (selflessness) that is Yoga – this is the Yoga needed in the world today. The Yoga that alleviates the suffering and pain from ailing humanity and shares the light of wisdom, joy and health to all."
Leading a beautiful green pledge to protect and preserve our sacred environment Pujya Swamiji encouraged everyone to not only make Yoga an every day part of their life but to also work to protect and preserve our environment. He urged that without our planet, without our Earth we can have no Yoga and therefore the time has come for us to practice Green Yoga and be Green Yogis.
Pujya Sadhvi Bhagwati Saraswati ji said, "Yoga is the answer to almost everything that ails us today. From depression and addiction to conflict in our families, our communities and our nations, to war and even environmental destruction and climate change. These are rooted in disconnection and yoga is that which connects us, to ourselves, to each other, to the divine and to Mother Earth. It is so beautiful that we are celebrating International Yoga Day here in Rishikesh, in the birthplace of Yoga and the world capital of Yoga and here at Parmarth Niketan, the home of the world famous annual International Yoga Festival. Yoga is not merely the flexibility of the body, but for the transformation of one's mind and one's heart, bringing us into the true expression of our true nature. Today on this occasion let us all take a pledge from this Yoga Capital of the World, where there are more Yoga Studios per sq km than anywhere else on Earth, to lead a yogic life in line with the eight limbs of Yoga."
She added, "This year's theme given by our honorable Prime Minister is yoga for humanity and yoga is for humanity! Yoga is for all with no borders or boundaries and also when we do yoga and live yoga we become assets to humanity by living yogic and dharmic lives."
---
8 वां अन्तर्राष्ट्रीय योग दिवस 2022
परमार्थ निकेतन गंगा तट पर आयोजित योगाभ्यास में उत्तराखंड के माननीय मुख्यमंत्री श्री पुष्कर सिंह धामी जी ने सपरिवार, शासन, प्रशासन सहित किया सहभाग
पूज्य स्वामी चिदानन्द सरस्वती जी, साध्वी भगवती सरस्वती जी, वित्त मंत्री माननीय प्रेमचन्द अग्रवाल जी, तकनीकी शिक्षा मंत्री माननीय श्री सुबोध उनियाल जी, माननीय विधायक श्रीमती रेनू बिष्ट जी, पुलिस महानिदेशक उत्तराखंड (डीजीपी) श्री अशोक कुमार जी, माननीय विधायक पुरोला श्री दुर्गेश्वरलाल जी, माननीय विधायक पौड़ी राजकुमार जी, श्रीमती बसंती बिष्ट जी, जिलाध्यक्ष सम्पत सिंह रावत जी, आयुष सचिव श्री पंकज पांडे जी, पर्यटन एवं संस्कृति सचिव श्री दिलीप जावलकर जी, आयुर्वेद विश्वविद्यालय के कुलपति जोशी जी आदि अनेक गणमान्य विशिष्ट अतिथियों ने किया सहभाग
उत्तराखंड योग ब्रांड एम्बेसेडर दिलराज प्रीत कौर ने विशिष्ट योग प्रदर्शन किया
️परमार्थ गंगा तट से सभी योग संस्थाओं का किया अभिनन्दन
स्वामी चिदानन्द सरस्वती जी ने पर्यावरण योग का कराया संकल्प
सभी विशिष्ट अतिथियों को गोबर के गमले में लगा रूद्राक्ष का पौधा भेंट किया
घर-घर योग, हर घर में योग, भारत में योग और पूरे विश्व में योग
स्वामी चिदानन्द सरस्वती
परमार्थ निकेतन में योग की अनुपम छटा अद्भुत, अलौकिक और अवर्णनीय
पुष्कर  सिंह धामी
ग्रीन योग का स्मृति चिन्ह इलायची की माला और रूद्राक्ष का पौधा माननीय मुख्यमंत्री पुष्कर सिंह धामी जी को भेंट किया
माननीय मुख्यमंत्री श्री पुष्कर सिंह धामी जी को उनके अद्भुत सेवा कार्यो के लिये गंगा अवार्ड से किया सम्मानित
ऋषिकेश, 21 जून। परमार्थ निकेतन गंगा तट पर 8 वें अन्तर्राष्ट्रीय योग दिवस का भव्य और दिव्य आयोजन किया गया, जिसमें स्वामी चिदानन्द सरस्वती जी के पावन सान्निध्य में माननीय मुख्यमंत्री श्री पुष्कर सिंह धामी जी, श्रीमती गीता धामी, पुत्र दिवाकर, प्रभाकर, माननीय मंत्रियों, माननीय विधायकों, उच्चाधिकारियों, विभिन्न संस्थाओं और छात्रों ने सहभाग किया और सभी ने मिलकर उत्कृष्ट योगाभ्यास किया।
माननीय मुख्यमंत्री श्री पुष्कर सिंह धामी जी ने कहा कि परमार्थ निकेतन में योग दिवस एक महोत्सव की तरह मनाया गया। माननीय प्रधानमंत्री जी ने योग को पूरी दुनिया में ले जाने का कार्य किया है। आज हम योग दिवस को उत्सव के रूप में और जन-जन के दिवस के रूप में मना रहे हैं, उसके लिये माननीय प्रधानमंत्री जी का अभार व्यक्त करते हुये कहा कि योग स्वास्थ्य को निरोग करने की विधा है; योग मिलाने की विधा है। योग को अपनी दिनचर्या में सम्मलित करें तो निश्चित रूप से हमारे जीवन में अनेक सकारात्मक परिवर्तन होंगे।
माननीय मुख्यमंत्री जी ने कहा कि योग एक स्वस्थ जीवन पद्धति है। हमारे ऋषि सैकड़ों वर्षो तक जीवित रहते थे, उन्होंने अनेक दुलर्भ कार्य किये उन सब महान कार्यो के पीछे योग की शक्ति थी। ऋषियों ने योग की शक्ति से समूचे ब्रह्मण्ड में अपने मन को वश में करने का अद्भुत कार्य किया। भारत ने कभी किसी के साथ अन्याय नहीं किया। हमारी संस्कृति तेरे-मेरे, छोटे-बड़े से उपर उठकर पूरा विश्व एक परिवार है का संदेश देती है। उत्तराखंड वर्ष 2025 में जब अपना रजत जयंती वर्ष मना रहा होगा तब तक हम सभी मिलकर हमारे राज्य का सम्पूर्ण विकास करेंगे और इसके लिये विभिन्न विभागों ने तैयारियां भी शुरू कर दी हैं।
परमार्थ निकेतन के अध्यक्ष स्वामी चिदानन्द सरस्वती जी ने कहा कि गंगा की पवित्र धारा के समान हम सभी के दिलों में राष्ट्रधारा प्रवाहित होती रहे। हर परिवार में योग हो, हर घट और हर घाट पर योग हो। घर-घर योग, हर घर में योग हो। योग तन को स्वस्थ करता है, मन को विकारों से मुक्त करता है और जीवन को मस्त करता है। व्यस्त रहते हुये स्वस्थ रहना है तो योग करें, रोज करें और मौज करें।
स्वामी जी ने कहा कि योग से हम सब जुड़ते हंै, योग हम सभी को जोड़ता है। सामूहिक सोच ही इस देश का कल्याण करेगी। स्वार्थ से उपर उठकर परमार्थ की यात्रा ही है योग यात्रा। विश्व योग यात्रा के लिये भारत के ओजस्वी प्रधानमंत्री श्री नरेन्द्र मोदी जी की भूरि-भूरि प्रशंसा की।
साध्वी भगवती सरस्वती जी ने कहा कि योग से सभी वैश्विक समस्याओं का समाधान सम्भव है। योग, पर्यावरण, जल, वैश्विक, व्यक्तिगत और सामाजिक सभी समस्याओं का उत्तर है। योग का मतलब है जोड़ना। योग एक प्राचीन सिस्टम है और हिमालय में वर्षो से ध्यान कर रहे ऋषियों द्वारा खोजी गयी अद्भुत कला है। हम इस बार मानवता के लिये योग की थीम