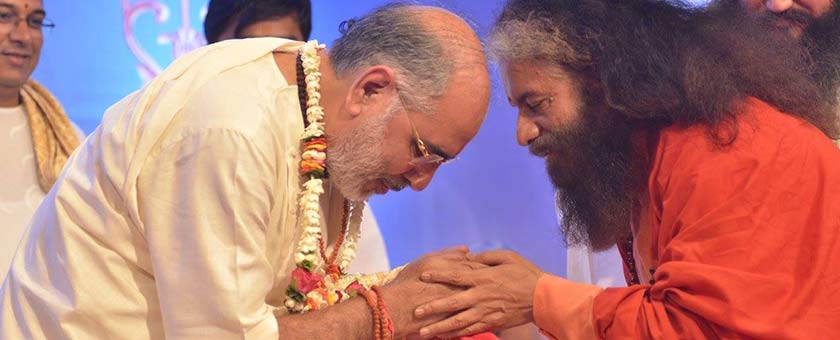 Pujya Bhaishriji's Green Birthday & the Gift of Ganga Rights Act
Pujya Swamiji arrived in Mumbai just after His trip to Ladakh, after the beautifully successful Global Interfaith WASH Alliance-UNICEF Worship for WASH Summit, for the auspicious occasion of Pujya Bhaishri Rameshbhai Ozaji's 59th Birthday. The divine celebrations was graced and blessed also by Pujya Karshnipeethadeshwar Swami Gurusharananandaji Maharaj, Raman Reti, Pujya MM Vishveranandji Maharaj, Pujya Raghumuniji Maharaj, Bhagwatacharya Pujyashri Shardbhai Vyasji and Pujya Rajguruji and many other saints.
Pujya Swamiji shared in His loving and inspiring address, "Pujya Bhaishriji's Prakatya Divas is truly a Prerna Divas for all us, inspiring us to live our lives with the same divinity that Pujya Bhaishriji teaches and reflects in his own life." He lauded the great achievements of the Sandapani Vidyaniketan, Porbandar and said truly if there was a Divinity Contest then the students of this divine educational institute would certainly be the first.
Pujya Swamiji summed up so beautifully the message of the Bhagawad Gita by sharing, "When we live our lives with the attitude of 'What For Me' then Mahabharat is bound to happen but when we live our lives with the attitude of "What Thru Me" then only can the wisdom of Gita take birth in our lives. On this divine occasion let us not say 'my way is the only way' but let us pledge to live our lives in divine surrender to the Lord's will, being merely an instrument of the Divine Grace."
Thereafter, Pujya Swamiji gifted a beautiful silk shawl to Pujya Bhaishriji from GIWA's Interfaith Leaders and Lamas from Ladakh as a divine birthday blessing and wishes on behalf of everyone. He also gifted a copy of the National Ganga Rights Act to Pujya Bhaishriji and called for all respected faith leaders present on the occasion to bless the act and hence support such a legislation that would protect and preserve the sacred lifeline, the sacred fresh water bodies, of our nation.
Pujya Swamiji also inspired everyone to pledge to make all of our birthday's green birthdays, building toilets and planting trees on every festive occasion. He encouraged everyone to join together in helping ensure an Open Defecation Free India. He lovingly welcomed and invited Pujya Bhaishriji to celebrate his 60th birthday, next year, on the holy banks of Mother Ganga and personally pledged to inspire the building of 60 toilets and provide 60 clean drinking water filters in his honour. He also personally pledged to inspire the plantation of 6,000 trees in honour of Pujya Bhaishriji's birthday, which would be planted from Char Dham to Haridwar, and hence set the divine example and encouraged everyone present to celebrate their birthdays and every occasion by planting trees, building toilets and protecting the planet.
[fbalbum url="https://www.facebook.com/media/set/?set=a.10154469571432698.1073742201.86246862697&type=1&l=dc37aab3ba"]