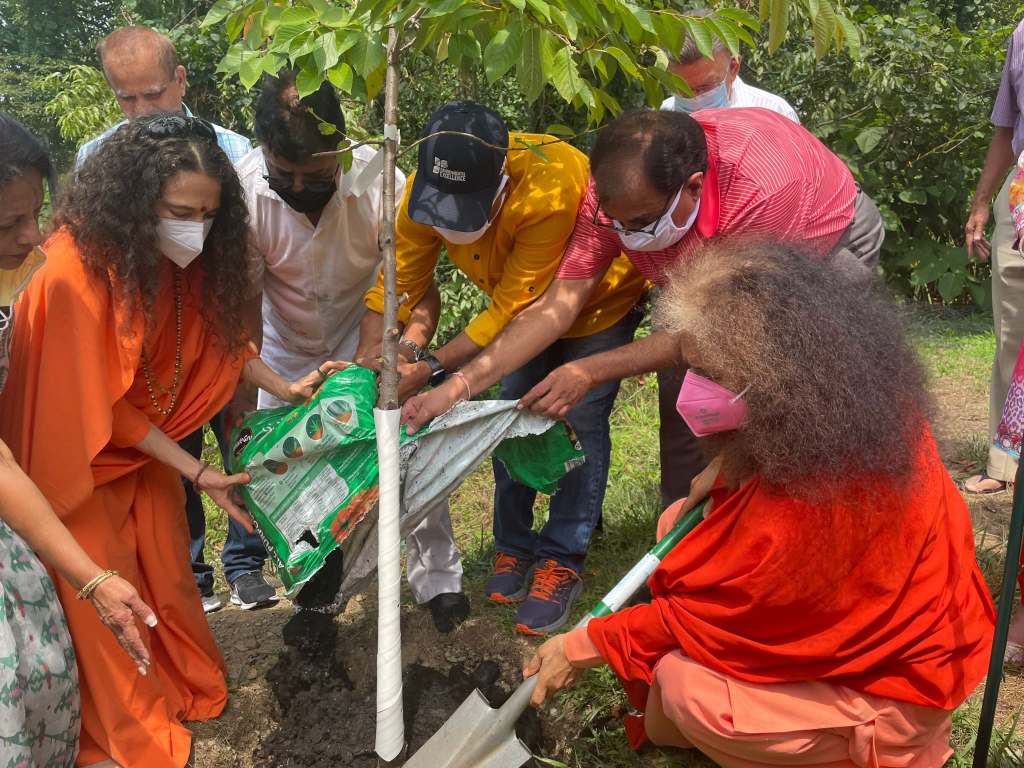 Tree Plantation at Hindu Jain Temple in Pittsburgh, USA
World Nature Conservation Day was a powerful reminder about how important it is to conserve, preserve and protect our earthly home, and HH Param Pujya Swami Chidanand Saraswatiji and Pujya Sadhvi Bhagawati Saraswatiji did just that with a beautiful tree plantation at the Hindu Jain Temple in the United States – a divine and historic facility that Pujya Swamiji founded over 40 years ago, creating the first mandir to house together the deities of the two faith traditions.
Said Pujya Swamiji of the event, "Due to the unscientific development taking place on the earth, we have brought our earth to the brink of destruction. So, today, we must be very sensitive towards our environment. We must do justice to nature, otherwise when nature does justice to itself, it will remain balanced, but our balance will be disturbed. We behave in such a way that both our nature and Mother Nature can live together happily and comfortably on this earth."
Joining Pujya Swamiji and Pujya Sadhviji were the children of the Temple because Pujya Swamiji emphasized especially to bring the children forward to do the planting as it is the kids who need to feel empowered to BE the change that we need in the world!
विश्व प्रकृति संरक्षण दिवस
अमेरिका में मनाया हरियाली दिवस
प्रसिद्ध हिन्दू जैन टेम्पल अमेरिका में स्वामी चिदानन्द सरस्वती जी और साध्वी भगवती सरस्वती जी ने पौधा रोपण कर मनायी हरियाली अमावस्या
स्वामी चिदानन्द सरस्वती जी और साध्वी भगवती सरस्वती जी ने पौधारोपण कर पर्यावरण संरक्षण का दिया संदेश
जीवन और जीविता के लिये पर्यावरण संरक्षण आवश्यक
पेड़-पौधे और जंगल पृथ्वी पर संतुलन स्थापित करने वाले महत्वपूर्ण कारक
स्वामी चिदानन्द सरस्वती
ऋषिकेश, 28 जुलाई। परमार्थ निकेतन के अध्यक्ष स्वामी चिदानन्द सरस्वती जी, ग्लोबल इंटरफेथ वाश एलायंस की अन्तर्राष्ट्रीय महासचिव साध्वी भगवती सरस्वती जी और हिन्दू जैन टेम्पल कमेटी के अध्यक्ष श्री चेतन पटेल जी ने अमेरिकी समुदाय के साथ विश्व प्रकृति संरक्षण दिवस' के अवसर हिन्दू जैन टेम्पल अमेरिका में पौधारोपण कर प्रकृति और पर्यावरण संरक्षण का संदेश दिया।
ज्ञात हो कि पूज्य स्वामी चिदानन्द सरस्वती जी के नेतृत्व एवं मार्गदर्शन में 42 वर्ष पूर्व अमेरिका की धरती पर निर्मित हिन्दू जैन टेम्पल पहला टेम्पल है, जो एकता और समरसता का संदेशवाहक है।
स्वामी चिदानन्द सरस्वती जी ने आने वाली पीढ़ियों को पर्यावरण संरक्षण का संदेश देते हुये वहां के बच्चों के साथ पौधारोपण कर हरियाली दिवस मनाया। उन्होंने कहा कि बेहतर भविष्य और आने वाली पीढ़ियों के उज्वल भविष्य के लिये पौधों का रोपण और संरक्षण अत्यंत आवश्यक है।
स्वामी चिदानन्द सरस्वती जी ने कहा कि धरती पर हो रहे अवैज्ञानिक विकास के कारण आज हमने अपनी पृथ्वी को विनाश के कगार पर लाकर खड़ा कर दिया है, परन्तु अब हमें अपने पर्यावरण के प्रति बेहद संवेदनशील रहना होगा। हमें प्रकृति के साथ न्याय करना होगा नही ंतो जब प्रकृति स्वयं के साथ न्याय करेगी तो वह तो संतुलित रहेगी परन्तु हमारा संतुलन बिगड़ जायेगा इसलिये हमें ऐसा व्यवहार करना होगा कि हमारी प्रकृति और हम दोनों ही इस धरा पर एक साथ अठखेलियां कर पाए।
स्वामी जी ने कहा कि पेड़-पौधे और जंगल पृथ्वी पर संतुलन स्थापित करने वाले महत्वपूर्ण कारक है। पाश्चात्य जीवन शैली ने कांक्रीट के जंगल तो खड़े किये हैं परन्तु हमारे हरे-भरे जंगलों को नष्ट किया हैैं, जिससे हम जलवायु परिवर्तन रूपी विकराल समस्या का सामना कर रहे हैं। आईये आज विश्व प्रकृति संरक्षण के अवसर पर संकल्प ले कि पौधों का रोपण कर प्रकृति संरक्षण में योगदान प्रदान करेंगे।
स्वामी जी और साध्वी जी ने हिन्दू जैन टैम्पल के परिसर में उपस्थित जन समुदाय को पौधारोपण और जल संरक्षण का संकल्प कराया।